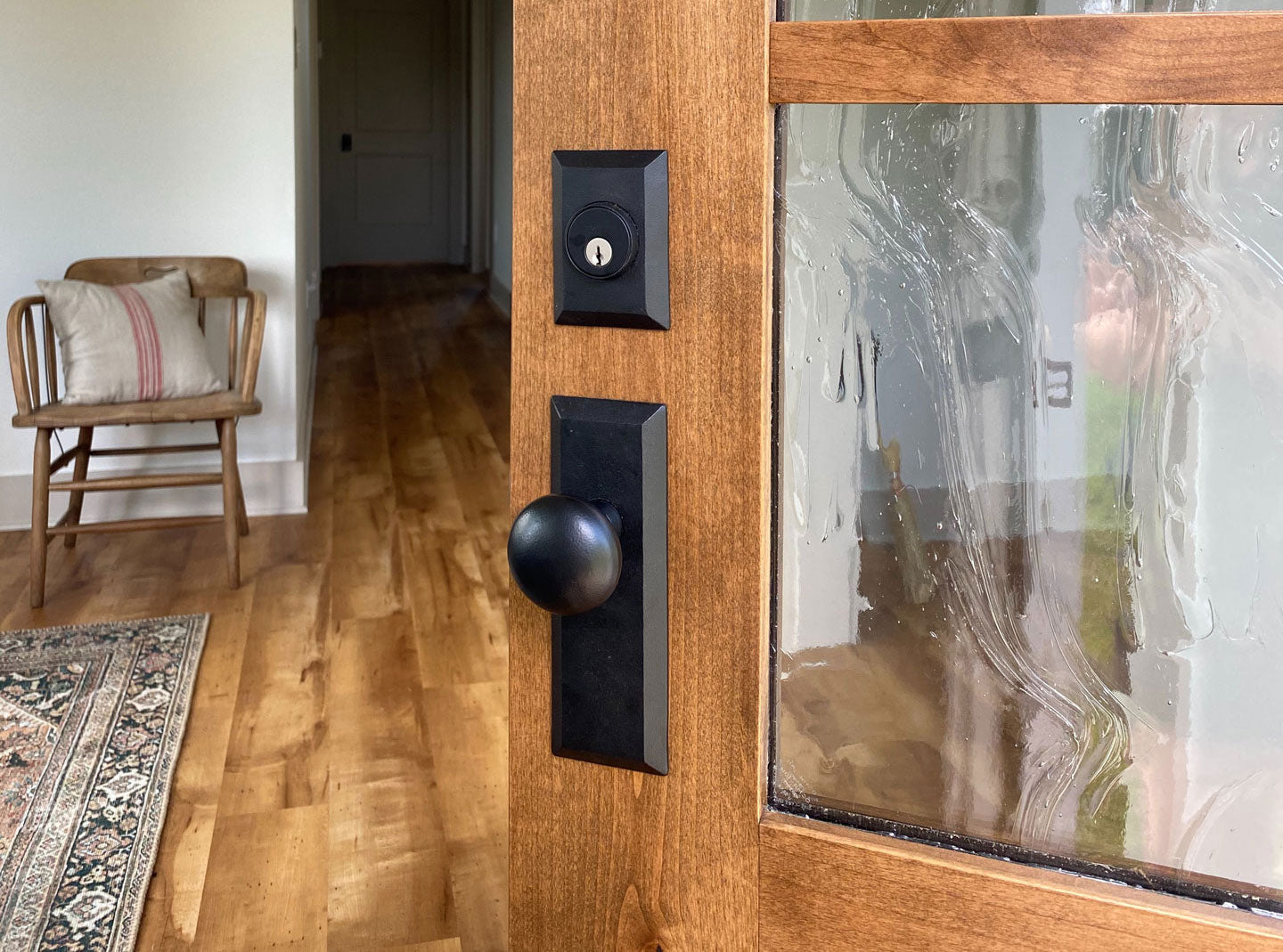 We recently partnered with Victoria of
@ourgrowingstorey
to showcase an Ageless Iron entry set in her beautiful new home in Louisiana. Read our latest Featured Blogger Q&A to find out more about her style and her beautiful house.
What is your design style, and how do you incorporate those decorating decisions within your home?
I love all things vintage. If I can buy secondhand, I certainly will! I would call my style 'country cottage with a farmhouse touch.' Usually, if I like something, I just go for it. There really aren't any rules!
Where do you find design inspiration?
I love buying used decor magazines and cutting out pages that inspire me. I also love DeVol for unique design ideas; their catalogs are like eye candy and constantly fuel my creative side.
When starting a project, how do you organize and plan for it?
I like to make lists to help plan, organize, and prioritize when starting a project. I consider our budget and if it's good timing for us to start something new. Projects should be fun, not super stressful!
Were there specific rooms of your home that were more challenging to design than others?
We finished building our forever home about seven months ago. It's a small custom home with lots of unique details and character. The kitchen was definitely the trickiest room to design because of its tiny size and our wall-mounted sink. Still, it's our favorite room, and we are so pleased with how it turned out!
How did you choose the hardware featured in this project? What attracted you to Ageless Iron hardware?
I wanted the hardware to be high quality in this home while maintaining a vintage charm throughout. Hardware was essential to me; it can help to create an authentic feel in a room. Ageless Iron Hardware had just what we were looking for - a great selection of antique-style knobs.
Did you learn any tips and tricks about door hardware that you think would be beneficial for others?
When choosing hardware for your home, do not be afraid to mix different finishes! Also, your hardware should last a lifetime, so make sure it is high quality and dependable.
What are some recommendations for readers who want to do an extensive remodel project in their home?
When we were planning on building, we took our budget very seriously and refused to go over it. If something was more money than planned, we found ways to save in other areas. Make a list of priorities/wants/needs, and stay realistic!
What are some tips for readers who want to transform their home?
You can easily transform an entire room or entryway with new paint, hardware, and light fixtures. It's that simple. Of course, you can do more and get more detailed, but for an easy upgrade, these three things will do the trick in no time at all!
Please give us some more details on Our Growing Storey. How did you develop it, and what sets it apart from the rest?
I started my account, @ourgrowingstorey, around 7 years ago. At first, I shared simple pictures of our home and life. Eventually, I became more interested in interior decor/design. I enjoy sharing companies and products that we love and use often. I also homeschool our four daughters, so the account has become my creative outlet and personal space to connect with other individuals that share the same interests and passions.
What is next?
Our next project is putting up wall molding in our hall bathroom. I'm excited to add more texture and personality to this very basic, bland room. Stay tuned!
Thanks to Victoria for sharing her beautiful home with us! We can't wait to see what is next!
Featured Products