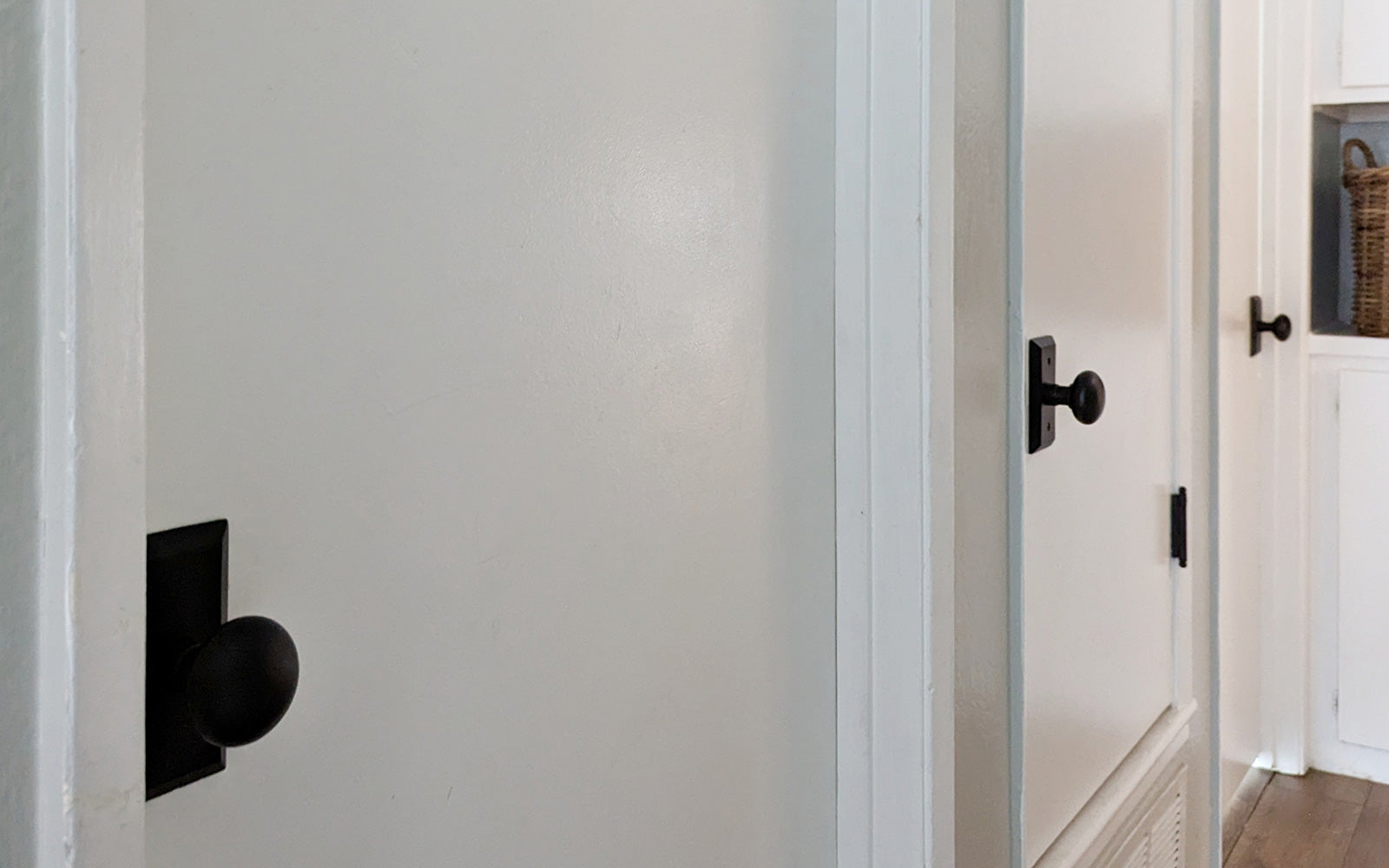 Choosing interior hardware for your home is not as daunting as it may seem. It's actually quite fun! There are only a few technical specs you should understand before you fully commit to buying your hardware. We've put together a few tips to understand better how to purchase interior hardware. 
Measure for Interior Door Hardware
Backset
To determine the correct backset measurement for your door, you will need to measure the distance from edge of the door to the center of your bore hole. Two common backset measurements are 2 ¾ inches and 2 3/8 inches.
Door Thickness
The distance from the inside edge to the outside edge of a door is the measurement for door thickness. The industry standard for modern (post-1950) front doors is 1-3/4". Many interior doors measure 1-3/8" thick.
Types of Door Handles
We have two different types of door handles to choose from, a doorknob or a door lever. Both are versatile and go well with any style.
Knobs
Doorknobs are a more traditional look, especially our Keep Knob. Knobs are popular in homes with pets and children because they can't be opened as easily – this can help keep kids and pets out of dangerous areas.
Levers
Levers are good in homes with those who may have trouble opening doors, like the elderly. Levers are easier to operate than door knobs and are best for those with limited dexterity. We have many different levers to choose from so finding the right style for your home is definitely possible with levers.
Types of Door Functions
Passage
Turns and operates a latch but does not lock.
Used for doors that do not need to lock or combined with a deadbolt, such as closets, pantries, hallway doors, and more.
The knob is always unlocked.
Privacy
Active latch with a locking mechanism.
A privacy pin provides locking through the rosette or plate.
Ideal for bathrooms, bedrooms, or rooms where the door needs to lock.
It can be opened from outside with a release key.
Double Dummy
Two non-functioning knobs and plates, with no lock or latch.
Used on both sides of a door.
Ideal for closet doors and is typically used with roller catch, flush bolts, or surface bolts.
Surface-mounted or thru-bolted to the door.
Single Dummy
A non-functioning door set with no latch or locking mechanism.
Used on one side of the door.
Ideal for closet doors and is typically used with roller catch, flush bolts, or surface bolts.
Surface mounted to the door.
Choosing Your Style
Once you've figured out all the technical details, you can do the fun part – matching your style! For interior hardware, you typically want to be consistent throughout your home, but you don't have to be! Feel free to mix and match different hardware combinations.
We currently have one finish for all of our Ageless Iron Hardware, a matte black. The look is actually very rustic or vintage because of the solid cast iron used to make our hardware.
We have many different hardware styles to choose from. Our best-selling Keep Knob and Keep Plate adds a unique style to doors. Our Tine Lever adds visual interest with its unique curves. All knobs and plates can be mixed and matched to fit your perfect style combination.
Pick Out Your Interior Hardware Today
Now that you understand the technical specs and our style consider browsing our interior hardware today. If you still have questions, please don't hesitate to contact the customer service team.