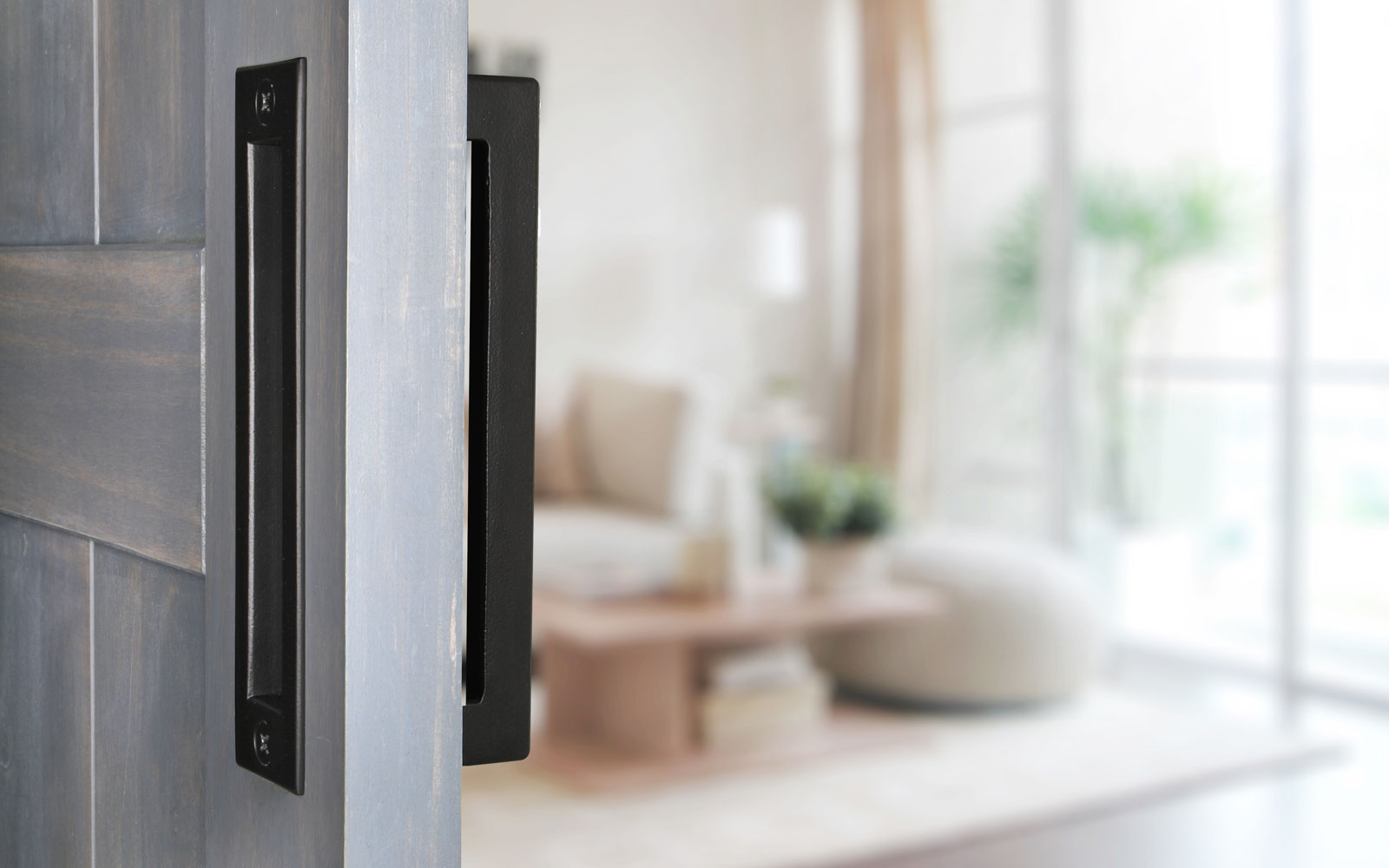 Barn doors are one of today's hottest interior design trends. They are popping up everywhere, from bedrooms and bathrooms to closets, living rooms, and even kitchens. They transform something basic - an ordinary door - into an aesthetically pleasing and fully functional focal point. They can also create separation; adding a barn door can separate a space with style.
The space-saving design makes barn doors a perfect way to add flair to interior doorways, closets, and more. From urban to classic to modern farmhouse, barn doors fit with many design styles and offer visually intriguing yet functional home décor.
Before purchasing barn door hardware, you will need to measure the space where the door will go. The door should be larger than the opening it will cover. We recommend your door overlap both sides and top of the opening by at least 1". We also recommend not having trim on the doorway to make for easier and cleaner movement of the barn door. Additionally, make sure there is enough wall space on the applicable side(s) of the opening for the door(s) to slide open entirely.
To determine the minimum length of track you will need, double the width measurement of the door opening. For double barn doors, you will need to quadruple the width of the door opening. Our Barn Door Track accommodates openings up to 34" wide and is applicable for single interior doors 1 3/8" to 1 3/4" thick, 28" to 36" wide, and up to 300 lbs. As far as the door hardware, you will need a recessed flush pull on the side that will touch the wall. The exterior side can use a grip or another flush pull, depending on your preference and the door's thickness.
There are essential details to know before installing barn door hardware. If your door opening has trim or casing around it, you will need to install a Backer Board between the track spacers and the wall. This board should be 1" x 4", or 1" x 6", and 78 3/4" long. The board should be secured to the wall by two, 2 1/2" long screws into each wall stud. A stud finder is necessary for proper screw location. Our online installation videos should also help during installation.
Our Barn Door Hardware offers consistent performance, fantastic durability, and long-lasting beauty. The collection includes an expertly engineered track crafted from heavy-duty powder-coated steel for smooth operation and a choice of a grip or pull. The grip and flush pull are meticulously crafted from cast iron and hand-finished by skilled artisans for unique surface textures. Each element can be purchased separately, and the grip and flush pull may be installed together on opposite sides of the door if desired.
Our Barn Door Hardware Track Kit includes:
(Parts & accessories are shown in picture)
A single track
1 pair of roller straps.
1 pair of doorstops.
5 track spacers
2 track protectors
A floor guide
All mounting hardware
Detailed installation instructions to ensure a perfect fit that will stand the test of time
Product Highlights:
Adjustable Stops
Rubber Stops
Extra Weight Capacity (300 lbs.)
Quiet Glide Wheels
Optional Matching Grip and Flush Pull
Barn Door Not Included