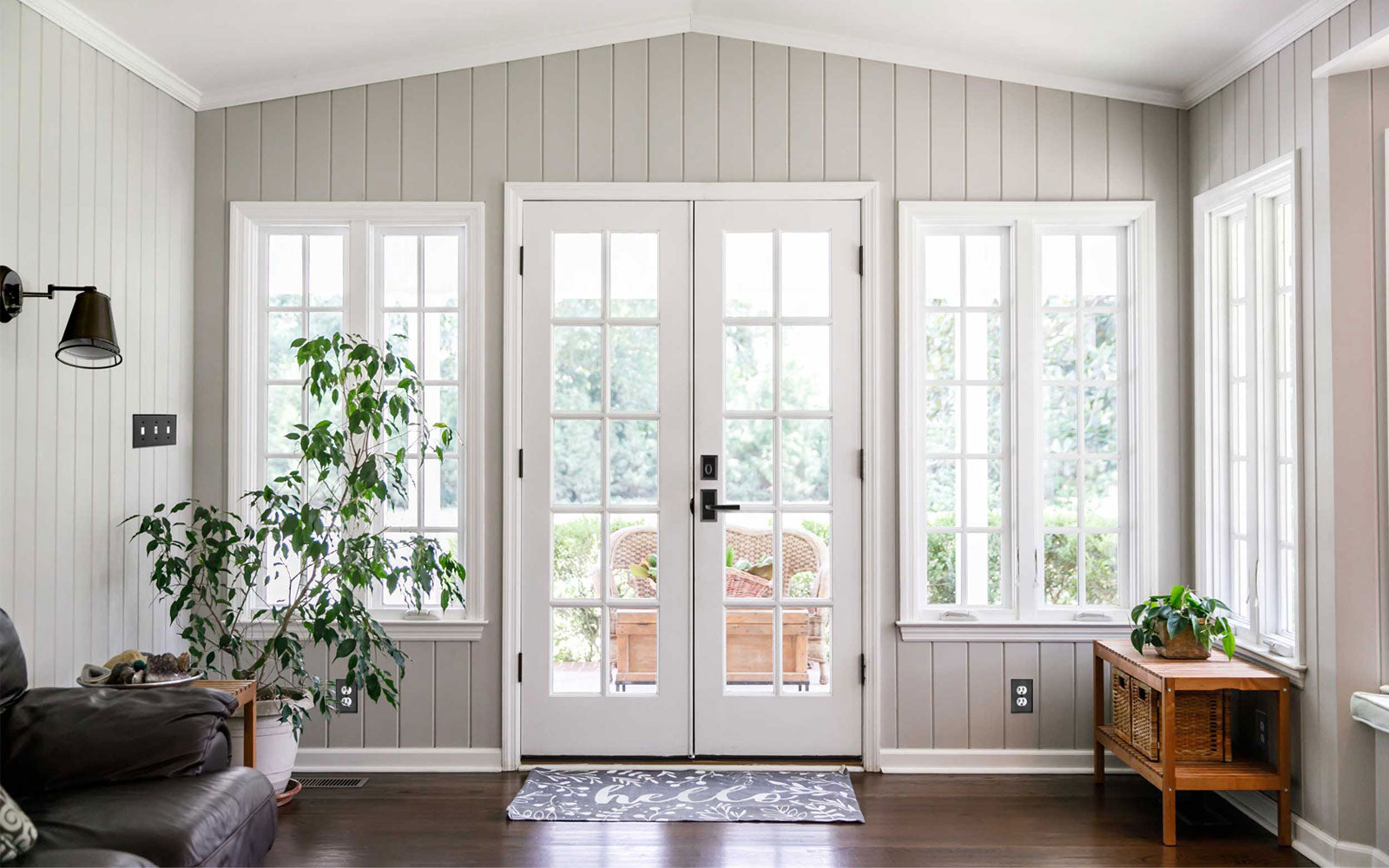 Make a Statement with Bold, Beautiful Black Hardware
Matte black hardware has been making waves across the design world for a little while now, and it's easy to see why. Matte black finishes make a bold yet sophisticated statement — making quite an impact in homes.
There has been some talk that black hardware is just a passing fad, but we're here to tell you that's far from the truth. Black hardware has so much versatility that it can harmonize with many different styles. Modern farmhouse, Industrial, and Contemporary styles all utilize black finishes in their designs.
Adding matte black finishes are a simple way to upgrade your home. Some real estate agents have shared that matte finishes are one of the first things potential buyers notice in homes.
Below we've compiled a list of simple ways to incorporate black hardware into your home.
Black Front Door Hardware
If you're looking to create a memorable introduction to your home,, why not start with the entrance to your home? When friends and family come to your home, the front door always makes the first impression. Create a timeless and bold look through matte black front door hardware.
Creating an inviting entryway does play on many factors — front porch layout, front door color, landscaping, the list could go on and on. Start with a small change that can make a significant impact. Black entry hardware is simple yet beautiful and goes with just about anything.
For a contrasting look, try a white door with black hardware. The simplicity of the white paired with our black entry hardware has a farmhouse feel but with a modern touch.
Our Keep One-Piece Handleset with A Grip with Keep Plate and Keep Knob has a striking elegance. The long front plate makes a statement as your guests come to the door. With the Keep Knob and Keep Long plate on the interior side of the door, the set makes an ordinary door feel unique.
Black Interior Door Hardware
If you want a simple way to create a show-stopping look throughout your home,replace your door hardware with black door knobs. This small change creates cohesion throughout the home with subtle sophistication.
Utilizing different interior door hardware styles throughout your home can add versatility in design.Consider our Loch Rosette with an Aeg knob for your closet doors. The rosette works in almost any situation. The oval Aeg knob adds charm to simple closet doors.
Consider a double dummy set of our Vale Short Plate with Lance Lever for Internal French doors. Double dummy sets are ideal for closet doors, pantry doors, or side-by-side French doors (used with roller catch, flush bolts, or surface bolts). A double-dummy set includes hardware for each door side, with no lock or latch. The knobs or levers don't turn or operate a latch. 
Consider our best-selling Keep Long Plate with Keep Knob for other rooms in your home. This black door knob is available in all hardware functions, passage, privacy, single, and double dummy.We recommend a privacy set for bedrooms and bathrooms. The privacy hardware comes equipped with apush-button lock on the interior side, allowing you to secure the door for added seclusion.
Black Kitchen Cabinet Hardware
Using matte black hardware in the kitchen can add a sophisticated play-on color. Matte black provides a bold and elegant look when incorporated into kitchens.
A classic yet striking look is white kitchen cabinets with flat black pulls or knobs. The contrast between the black and white plays into modern farmhouse trends but is a look that will never go out of style.
Cup cabinet pulls can add a vintage touch to modern cabinets or drawers — perfect for adding character! Our Aeg Cabinet Knob, at first, seems like a simple hardware knob, but its unique oval shape and matte black finish adds dramatic impact to your kitchen.
If your style leans more towards cabinet handles, consider using our Barn Round Corner Handle Pulls. The rounded corners softened the simple style but are still decorative and functional. Our handle cabinet pulls come in multiple sizes. The 8-inch drawer pull is ideal for larger cabinets and drawers.
Black Bathroom Cabinet Hardware
Upgrading your bathroom cabinet hardware with matte black hardware is a simple and beautiful way to boost your bathroom cabinets. All of our hardware is zinc coated and then powder coated, creating a high-quality finish — perfect for high-use bathrooms!
With clean lines and simple silhouettes, the hardware is well suited for both farmhouse styles and industrial home decor. While satin nickel can be very common in bathrooms, consider making a bolder statement with matte black accents. Black surfaces prevent stains, rust, and daily wear-and-tear from showing — keeping your modern look intact.
Our Turret Cabinet Knob could be just the right look for your bathroom to play on rustic designs. The circular design details add just enough character to create an eclectic yet modern look. Of course, a simple black knob, like our Keep Cabinet Knob, is clean and distinctive enough for any design style you are trying to achieve.
For a more industrial design, handle pulls are a good choice for a bathroom. Our Machine Handle Cabinet Pulls look very different from our Barn Handle Pulls. The Machine Pulls have a square base with sharper corners, creating a more formal look.
Black Hardware Accessories
When upgrading home hardware, most people overlook small details that can make a huge impact. Switch plate covers, outlet covers, and hinges help add continuity to a home. It may seemextraneous, but it can truly elevate the style of a home.
Our cast iron switch plate covers look beautiful on any wall color. Coming inmultiple toggle configurations, you can be sure to find the right cover for your home. Our matte black outlet covers provide a standout look — proof of a worthy upgrade!
Matching your hinges to your door hardware can be an easily overlooked step, but our carefully crafted hinges add a rustic, timeless look to any door. All the hinges have been powder-coated to match our matte black hardware perfectly.
Coming in 3.5" and 4" sizes, you can choose between radius or square corners for your hinges. Easy to install but very durable. Perfect for heavier residential doors.
Try some black coat hooks for one more matte black upgrade to your home. Our cast iron coat hook has aclassic schoolhouse shape with clean edges and a slightly textured finish —a perfectly endearing addition to any home.
Upgrade Your Home With Black Hardware
Adding black hardware to your home could be the perfect finishing touch you're looking for. Whether your style is modern farmhouse, industrial, or even farmhouse industrial, black hardware can help achieve whatever style you want.
Our cast iron hardware is perfect for any project utilizing matte black accents. Please browse through our hardware to see what style is ideal for you.