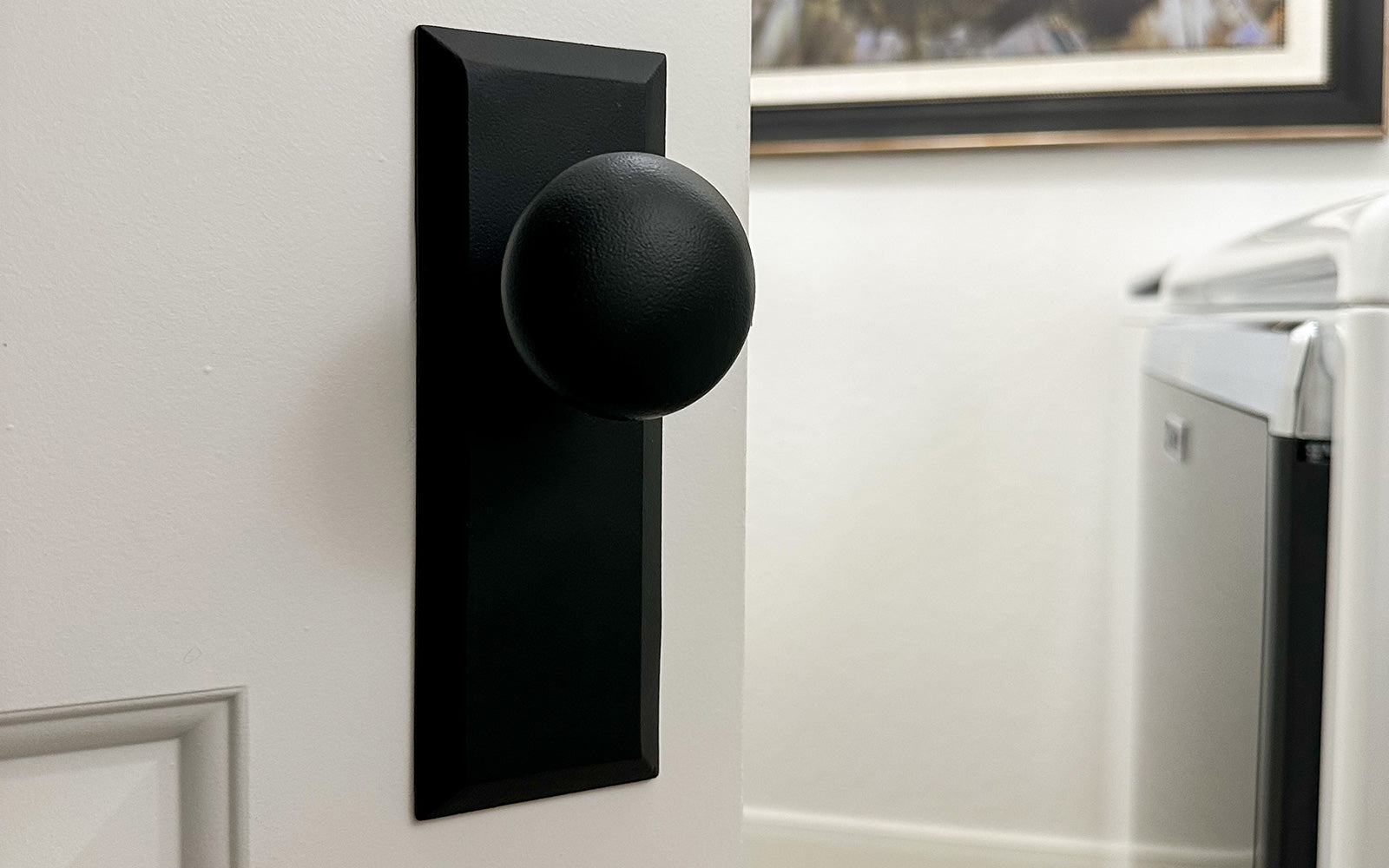 Roxanne Flett runs the lifestyle account
Roxy Home Living
where viewers can follow along with her modern farmhouse-inspired style. With high-contrast choices throughout her home, we knew Ageless Iron would be a great fit for her latest project. Her thoughts regarding home décor are that every detail matters, including doorknobs. Upgrading doorknobs is the perfect opportunity to add style and personality to your home. It's also an easy way to significantly impact the overall aesthetics of your living spaces. See how she did just this in our latest blog.
Please give us some more details on Roxy Home Living. How did you develop it, and what sets it apart?
I started my business as a home staging company in 2018. In December 2020, my family and I relocated to Texas from California. After much deliberation, I decided it was time to sell the business and pivot into something where I could continue to expand my passion for home design and décor while providing inspiration and tips to others. This was when Roxy Home Living was formed, and I have not looked back since!
My experience, certification, and knowing how to target the consumer from my home staging experience set me and Roxy Home Living apart. In the staging industry, you must know how to create connection points with potential buyers to help them visualize the space and imagine themselves living in that home. This is very similar to content creation/influencing. When I create content for a brand, I present it in a way that connects with my audience and helps them understand how it could be helpful or desired in their homes.
How did you choose the hardware featured in this project? What attracted you to Ageless Iron Hardware?
I recently remodeled one of my bathrooms (the second most challenging remodel in my home), adding black beadboard and accents. Everything about it looked as I wanted, but the door hardware didn't fit in. I knew I wanted to add black doorknobs and hardware with a large backplate to balance the overall aesthetics of my home.
Then I saw a post on Instagram by Ageless Iron and loved that the hardware is made of cast iron and has a deep black finish. I knew they were perfect and would add that touch of modern farmhouse charm I sought.
Will you use this hardware again in other projects/areas of your home?
Absolutely and for several reasons…the quality, finish, easy installation, and customer service are unmatched. Plus, I still have a lot of other doors in my home, and flow is important to me, so I'll be adding more soon.
How did/do you choose a house to buy and renovate?
I've always chosen homes I could live in without remodeling them in my mind every time I look at them. I need to be able to enjoy my space and take my time planning how to fine-tune it to my style. I'm not the sort of person who would buy a fixer-upper and live in it while remodeling because I know my brain would never stop thinking about improving it. It can be a blessing and a curse all at the same time!
Did you do a remodel on your entire home? If so, were there specific rooms that were more challenging than others? Why?
I have remodeled/upgraded our pantry, kitchen, dining room, and two bathrooms. The pantry was my biggest challenge. It's a tiny space, and I wanted to add cabinets without making them myself. With A LOT of patience, caulking, and paint, it came out amazing! I still can't believe that I remodeled that space without any experience.
Many people want to take on large remodeling projects. What are some recommendations for readers who wish to do an extensive remodel project?
It's important to take the time to think about the use of the space and what the needs are of those living within the home, and do your research! I have done projects I thought I would do one way. Still, after thinking and researching, I did the project entirely differently than initially planned. This has saved me a lot of money and spared me much frustration.
What are some tips for readers who wish to make a transformation in their home?
Start with smaller projects that won't feel as overwhelming as a kitchen remodel. Remember that smaller projects can sometimes become much more extensive for many reasons.
What's next?
I purchased an old door I am turning into a barn door in my entry hallway. It's an 8-foot door, which will make quite a statement when entering our home. I also have one more side of my kitchen to finish, a living room accent wall, a desk to refinish (which will likely involve an office remodel), a garage remodel, and possibly a main bathroom remodel on the list.
The projects are never-ending for Roxanne, and we thank her for showcasing our hardware in her lovely home!