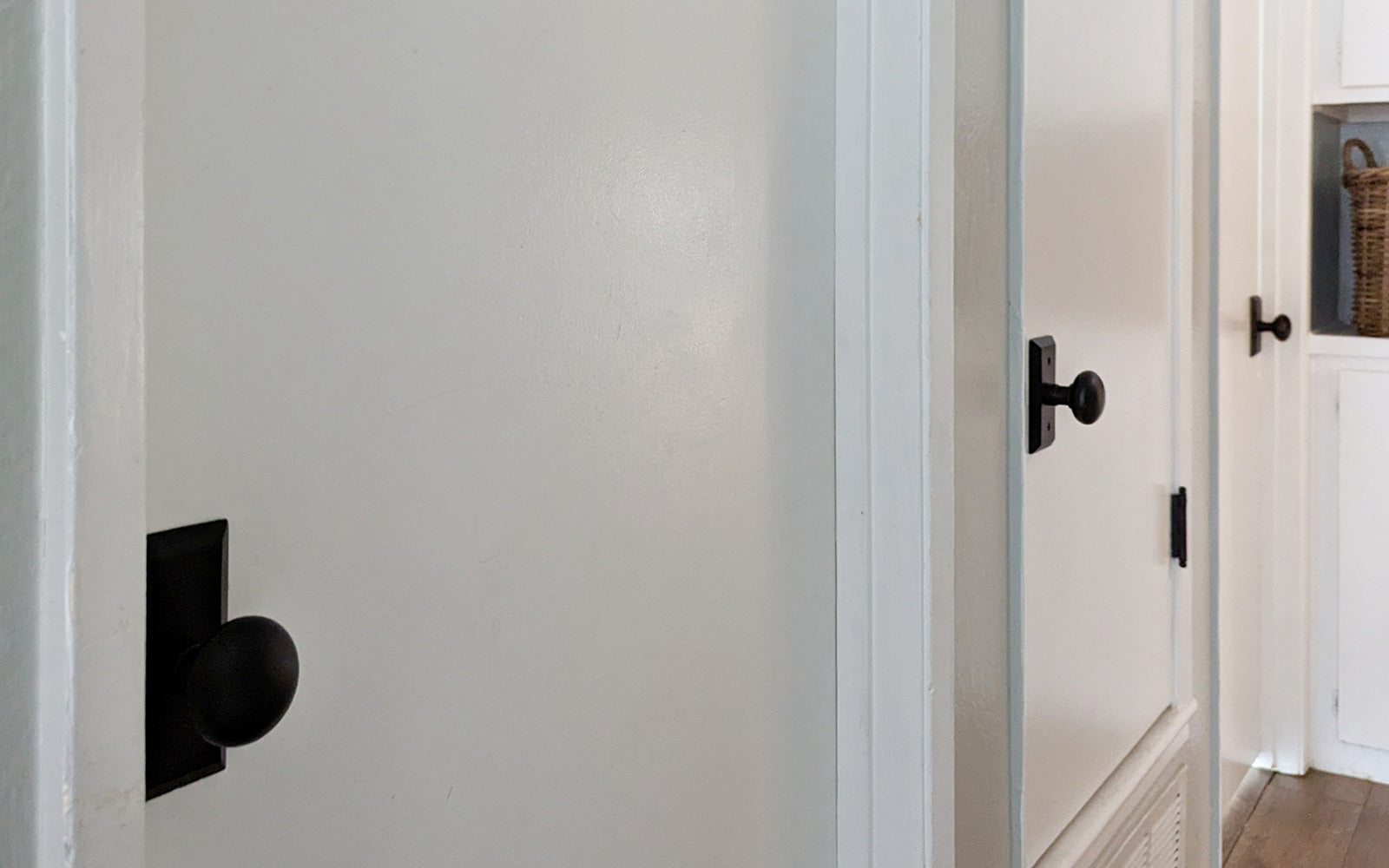 Danae runs the blog
Homebody House
and told us she was "one of those kids whose hobbies included regularly re-decorating my childhood bedroom for fun!" In her newest project, she incorporated Ageless Iron door hardware in a hallway to add pops of contrast to white doors. See the finished results and learn more about
Homebody House
.
Please give us some more details on Homebody House. How did you develop it, and what sets it apart?
I started the blog in 2015 after struggling to love living in our rental apartment. While all my friends were going out, I preferred to stay in. The blog and the interior design community allowed me to be who I've always been: a homebody. Now all these years later, we own several properties, raise mini homebodies, and are passionate about creating a home you never want to leave.
What sets us apart is that our timelines and budgets are relatable. Often, what the DIY and home renovation community do can feel unachievable to the average homeowner simply because many influencers are renovating their homes full-time. That's not our reality. We're real people with full-time jobs outside the DIY and home renovation community. We're renovating our home in real-time, on a relatable budget, with a young family in tow. Most homeowners can relate to that because that's who they are too.
How did you choose the hardware featured in this project? What attracted you to Ageless Iron Hardware?
We've used Nostalgic Warehouse in our other homes and fell in love with the quality of the products. When designing this house, we knew we wanted stark black hardware to contrast against the white doors (something we haven't done yet) and found Ageless Iron, Nostalgic Warehouse's sister brand. We knew we would love and could trust the quality of the products from Ageless Iron too.
How long did this project take to complete?
A few months. We both work full time and only have nights and weekends to dedicate to renovating our home in addition to raising our three girls and all their extracurriculars. The doors we installed the door hardware on were in pretty rough shape. It took us much longer than we anticipated because we had to refurbish each door frame as we went along. Installing the door hardware was easy - the rest, not so much!
Will you use this hardware again in other projects/areas of your home? If so, why?
Yes, absolutely! The quality and finish are exceptional, and we're passionate about using quality materials from vendors we trust.
Did you learn any tips and tricks about door hardware that would benefit others?
Yes! Swapping door hinges is much easier with two people. If you have to work solo, leave the door on the frame and change the hinges out individually.
What is your design style, and how do you incorporate those decorating decisions within your home?
My design style is a blend of classic interiors with pops of modern elements. To incorporate my preferred design style into our home, I purchase investment pieces (rugs, hardware, draperies, etc.) made from timeless materials such as wool, brass, wood, leather, marble, or iron; these serve as the basis for any room design. I am okay with splurging on items made from these materials because they can withstand any design trend and will also hold up and patina beautifully with daily wear and tear.
I often bring the modern side of my design style into our home with lighting and art - items that are easily changed or are relatively inexpensive to switch up.
Where do you find inspiration when starting a project, and how do you organize and plan?
Pinterest and Instagram are two areas where I find a lot of design inspiration. I use Pinterest more because I can search for a specific idea and then save those ideas in an organized way to refer to later. Once I've gathered ideas, I create a mood board. After I've finalized my design plan, I make an Excel spreadsheet to itemize costs.
How did/do you choose a house to buy and renovate?
Location is the most crucial factor, followed closely by the layout inside. I see potential in almost every home but also shy away from homes that would require a lot of structural changes to improve the layout and/or exterior. That's not something we're equipped to tackle at this stage of our lives because we're raising small kids, and that would be very challenging to navigate. Knowing our limits has been key every time we've purchased a home to renovate.
What are some recommendations for readers who wish to do an extensive remodel project?
Living in and using your home for a while is essential before committing to a large-scale renovation. Doing so will uncover how you live and use the space, which can inform future renovation wants or needs and save you a lot of money in the future.
What are some tips for readers who wish to make a transformation in their home?
Go for it! Anything can be repaired, replaced, or fixed, but if you're unsure, hire a professional.
Are you working on any other properties or projects besides your own home?
Behind the scenes, I'm working on some client spaces through my e-design business. It is always a lot of fun when I get to help others love their home just as much as we love ours.
What is next?
We have a built-in project at the condo, which will take shape in the next few weeks. We're in the early stages of a bathroom remodel for our girls' shared bathroom, which will hopefully kick off this summer. Fingers crossed!